Max Verstappen overcame a five-second penalty, a collision with George Russell and Ferrari's Charles Leclerc to claim a historic Las Vegas Grand Prix win.
On a wild night in Sin City, where the lead of the race changed hands on multiple occasions, it was Verstappen who prevailed to take his 18th win from the 21 rounds so far with popstar Justin Bieber waving the chequered flag.
Leclerc passed Sergio Perez on the final lap to finish runner-up, while British driver Lando Norris was taken to hospital for precautionary checks after he crashed out on the third lap at 180mph.
The build-up to Formula One's debut race on the Strip has been mired in controversy following Thursday's practice washout and Verstappen comparing the Las Vegas race to football's National League.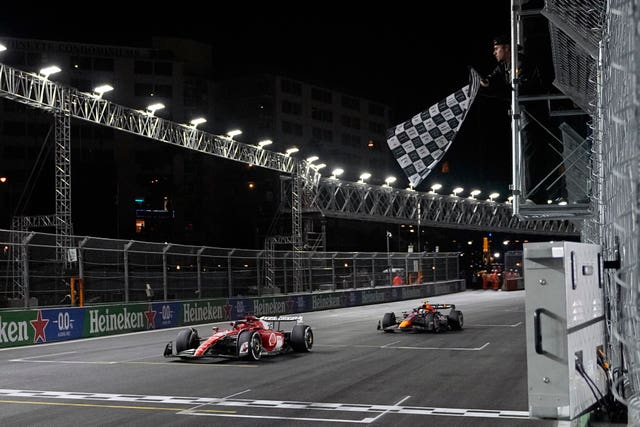 But the 3.8-mile venue served up a brilliant race which culminated in Verstappen passing Leclerc for the lead on lap 37 of 50.
A celebrity-jammed grid dispersed moments before the lights went out in Sin City, and it was Verstappen who raced away from his marks to gazump the pole-sitter into the opening bend.
However, Verstappen's move courted the attention of the stewards with Leclerc forced off the track.
Behind, Fernando Alonso's spin triggered a pile-up as Perez tagged Valtteri Bottas. Carlos Sainz also thudded into Lewis Hamilton, but the latter escaped without damage.
The virtual safety car was deployed following the first-corner chaos and when the race resumed three laps later, Norris was in the wall.
Norris lost control of his McLaren through Turn 11 and was soon a passenger as he thudded backwards into the concrete wall amid a flurry of orange sparks, before the car righted itself and Norris went head-on into the run-off barriers at Turn 12.
Norris's machine was wrecked in the high-speed smash, but the 23-year-old was on the radio to report he was okay, before he made his way into the medical car.
Out came the safety car and Verstappen was dealt a five-second penalty for forcing Leclerc off the road at the first bend.
"Yeah, that is fine," he said over the radio. "Send them my regards."
Verstappen might have felt he would have the sufficient speed in his Red Bull to open up a gap to Leclerc, but the Ferrari man was soon in his mirrors. And on lap 16 the Monegasque swept by to take the lead. In came Verstappen for new tyres.
Further back, and Hamilton, who had been on the charge, sustained a puncture following a collision with Oscar Piastri.
The seven-time world champion limped back to the pits for repairs, but he emerged 19th and last, and a credible result on American soil was in tatters.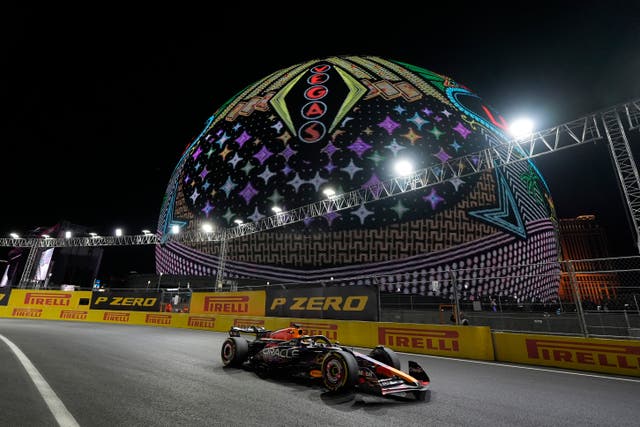 In the other Mercedes, Russell, now ahead of Verstappen following the Dutchman's penalty, had the Red Bull swarming in his mirrors.
Verstappen threw his Red Bull underneath a surprised Russell at Turn 12 and the British driver turned into his rival as they duelled for a net third.
Russell made contact with Verstappen's Red Bull with debris falling off both of their machines.
The safety car was out for a second time and Leclerc took the lead with Perez moving up to second by virtue of a free pit stop.
When the safety car came back in, Perez passed Leclerc to take the lead on lap 32 while Verstappen was also on the move as he swatted Piastri aside for third.
Three laps later, and Leclerc was back on top after fighting his way back past Perez. A lap later, Verstappen moved ahead of Perez on the Las Vegas Boulevard for a second, and then on lap 37, he slung his Red Bull underneath Leclerc's scarlet machine for the lead.
Perez looked to have completed a one-two for Red Bull when he made his way ahead of Leclerc with seven laps to go only for the Monegasque to fight his way back past on the last tour.
Russell crossed the line in fourth, but was demoted to eighth after he was hit with a a five-second penalty for his collision with Verstappen. Esteban Ocon took fourth, one place ahead of Lance Stroll with Carlos Sainz sixth and Hamilton seventh.
Verstappen, Leclerc and Perez were whisked away in a limousine to the front of the Bellagio Hotel to conduct their post-race interviews.
"It was a tough one," said Verstappen after claiming his 53rd career win to move into third on the all-time list alongside Sebastian Vettel.
"I tried to go for it at the start. But I ran out of grip and the stewards gave me a penalty which put me on the backfoot.
"I had to pass a few cars to get into the battle and it was definitely a lot of fun."
Leclerc said: "What a race. I enjoyed it so much. I am disappointed to finish second but that was the best we could do."