Lewis Hamilton took aim at Max Verstappen's criticism of the Las Vegas Grand Prix after lauding the star-studded race as one of the best of the year.
The lead changed hands on multiple occasions on a wild and incident-packed night in Sin City. But it was Verstappen, doom-monger-in-chief, who prevailed to take his 18th win from the 21 rounds so far.
Ferrari's Charles Leclerc denied Red Bull a one-two finish after he passed Sergio Perez on the final lap to finish runner-up.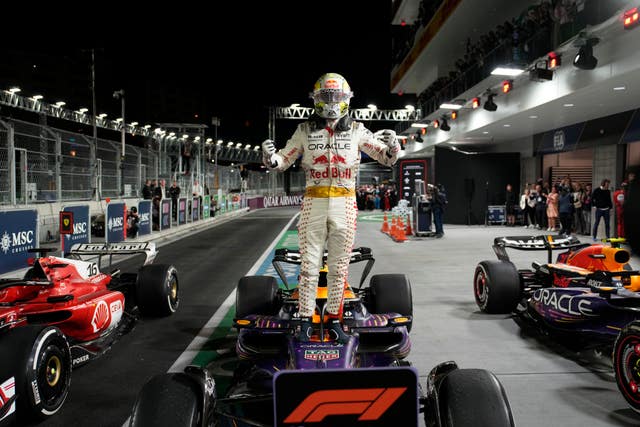 The build-up to Formula One's £500million debut race on the Strip had been mired in controversy.
Verstappen accused the sport's bosses of making him look like a clown following Wednesday night's Superbowl-style Opening Ceremony. And in the wake of an embarrassing practice washout, the triple world champion compared the event to the fifth tier of English football.
He was then effusive in his praise for the sport's traditional European venues in Monaco, Monza and Spa.
But Las Vegas' 3.8-mile street venue served up a thrill-a-minute classic which culminated in Verstappen passing Leclerc for victory with 13 laps remaining.
Hamilton endured an arduous night on the Strip following a collision with McLaren's Oscar Piastri. The prang dropped him to 19th and last. Hamilton fought back to seventh but he can no longer catch Perez in the race for second in the championship.
Yet, despite his own personal disappointment, the seven-time world champion hailed the Saturday night sizzler as a breakthrough moment for the sport.
"For all those who said it was all about the show, Vegas proved them wrong," said Hamilton in an apparent swipe against Verstappen.
"The race was great, and it was one of the best races. There have been so many people who have been negative about the show, and all that. But just let it be and see how it goes.
"And it was huge. There has been criticism about having three races in the United States, and people talking about bringing back old classics from Europe. But this has provided a better race than most of the tracks we go to. Hats off to the people who ran the show.
"I cannot wait to come back and hopefully have a better race next year. I am really grateful to Vegas for having us."
The inaugural event – billed by F1 as the greatest show on earth – got off to the worst possible start when Carlos Sainz collided with a drain cover and first practice was abandoned after just eight minutes. Furious fans were ejected from the venue before second practice concluded at 4am on Friday.
But F1's American owners' Liberty Media were celebrating a triumph in the early hours of Sunday morning after stars of stage and scene flocked to the entertainment capital of the world to witness a fascinating race.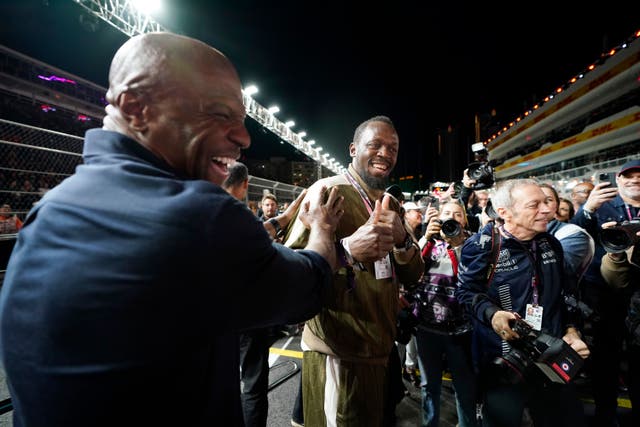 Verstappen took centre stage after he fought back from a five-second penalty – for pushing pole-sitter Leclerc off the road at the first corner – and a collision with George Russell as they duelled for fifth. Russell was penalised with a five-second penalty of his own by the stewards.
The all-conquering Verstappen made his way ahead of Perez, and then Leclerc on laps 36 and 37 respectively to land a fine win.
Wearing his Elvis-themed Red Bull overalls, Verstappen belted out a rendition of the King's Viva Las Vegas from inside his cockpit after taking the chequered flag – waved by pop star Justin Bieber.
Verstappen, Leclerc and Perez – who all enjoyed spells leading the race – were then whisked off in a limousine to conduct their post-race interviews in front of the Bellagio before the hotel's iconic fountains burst into life and a fireworks show lit up the night sky.
But was Verstappen ready to row back on his earlier disapproval?
"I always expected it to be a good race because there are long straights, and low-speed corners, and you don't lose a lot of downforce so that has never been my issue," he said, largely dodging the question.
"Today was fun and that is the only thing I want to say about it. I hope everyone enjoyed it.
"(Team principal) Christian (Horner) put me on the spot so I couldn't leave him hanging. I had to sing. But I need some lessons so I am going to go to Geri (Horner) and book an appointment."
But more pressingly for Verstappen will be next weekend's concluding round of this marathon 22-race season in Abu Dhabi next weekend.